Improved presentation and reduce plastic packaging for soup in pouches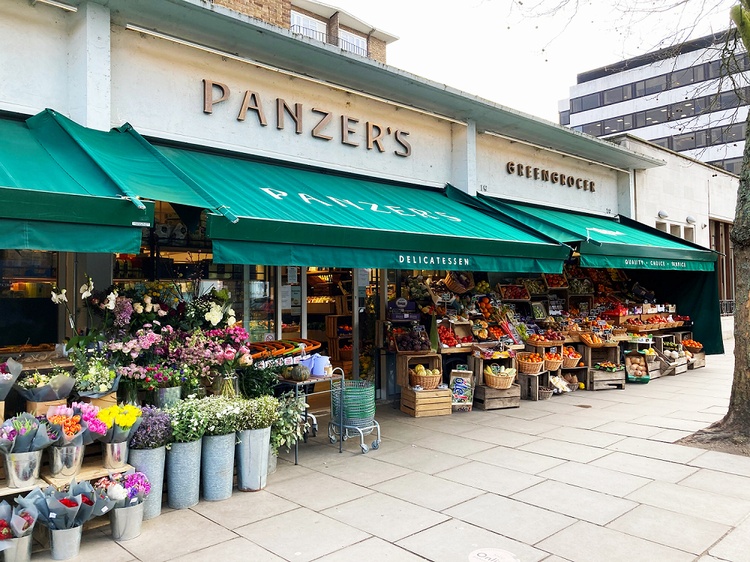 Since 1944, Panzer Delicatessen's has been curating and creating delicious epicurean treats for cooking, eating and entertaining, whilst also providing its customers with excellent in-store shopping experiences.

The business' team of food experts travel the globe to discover the best and newest products from over 80 countries; from small Italian producers to a citrus farm in Southern Spain, and from speciality Russian ice creams to Manuka honey suppliers in New Zealand.

In 2020, Panzer's was awarded Delicatessen of the Year in the Farm Shop & Deli Awards, and with its new MULTIVAC machine, have entered several house-made products for the Great British Taste Awards this year.

Packaging for new product launch

Based in London, the business required a new packaging solution suitable for liquids as it set out to launch a new range of its own-brand soup. Panzer's wanted a new solution that would provide them with premium pack presentation while reducing the plastic consumption of their previous packaging solution of plastic tubs.

Decision made in favour of a new MULTIVAC Chamber Machine

Panzer's previously purchased a MULTIVAC C 200 in 2017 for the packaging of raw food for cold or frozen storage. The deli called on their MULTIVAC contact to discuss the new project and the opportunity of a new chamber machine to meet the business' requirements for its soup packaging. Panzer's were confident MULTIVAC would help find the right machine for its application and were already aware of the excellent technical support available to them.

With the decision made in favour of an additional MULTIVAC C 200 vacuum chamber machine, the new tabletop machine was delivered in February this year to seal stand-up vacuum pouches.

MULTIVAC's easy-to-use tabletop vacuum chamber machines are the ideal solution for the quick and easy packaging of many products. The machines are highly flexible and provide high outputs without compromising on professional pack quality.

The C 200 tabletop vacuum chamber machine has an especially spacious chamber with dimensions of 465 x 355 x 150/220 mm, making it not only suitable for the packaging of larger products but also allowing it to provide a higher output than its smaller counterparts, providing Panzers with maximum flexibility and efficiency.

Using a pump with an output of 21 m3/h guarantees an efficient packaging process from the C 200 vacuum chamber machine. It's evacuation and gas flushing processes are pressure-controlled and help to achieve consistent pack quality every time.

The tabletop machines are easy to operate, clean and maintain, and all MULTIVAC machines in the C series have a chamber lid with a viewing window that permits the user to view the packaging procedure.

The new packaging solution also helped to significantly reduce the business' plastic consumption in comparison to its previous solution of plastic tubs for its soups.

Since installation, the new vacuum chamber packaging machine has allowed Panzer's to launch its new range of soups in stand up pouches with consistent, premium pack presentation every time.

Installation and training

MULTIVAC UK was also able to provide a one-to-one training visit from our expert Chamber Machine Production Manager to ensure the team at Panzer's were fully educated on how to set up their machine for maximum efficiency, as well as setting up recipes for each product and basic maintenance of the machine.

World-class aftersales service

"When requiring a second vacuum packaging machine for our kitchen, Panzer's had no hesitation in ordering again with MULTIVAC UK. The service we had received since purchasing our first machine in 2017 has been exemplary and the assistance given by Karl in selecting the correct machine for our new needs was crystal clear and extremely helpful," says David Josephs, Director at Panzer Delicatessen.

"With the result, we didn't waste investment in procuring items that were superfluous to our needs. I wouldn't hesitate to use MULITVAC again, and only wished more of our kitchen equipment suppliers had a similar ethos to MULTIVAC UK's approach to customer service."

Panzer's Delicatessen also benefits from the comprehensive and sophisticated support provided by MULTIVAC UK's Technical Service department to ensure the maximum availability and efficiency of their new vacuum chamber machine. The deli has access to the support of over 55+Field Service Technicians, as well as a Technical Help Desk.